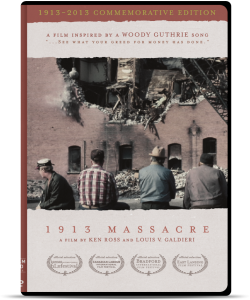 Here's a holiday gift idea for the Bob Dylan fan in your life: a copy of Daniel Wolff's Grown Up Anger, tracing the connections between Woody Guthrie, Bob Dylan, and the Italian Hall disaster, and a DVD of the film 1913 Massacre.
Seamless editing, engrossing interviews and a stirring well-integrated music soundtrack make the film flow like long lost friends catching up on history… It joins the ranks of great progressive movies.
You can buy the DVD right here, and order Wolff's book on Amazon.
Woody Guthrie and Arlo Guthrie fans will love it, too!