Les Ross passed away on Thursday, June 26th, just a month shy of his 91st birthday.
Read his obituary here: World War II (Navy) veteran. Accountant. Father, grandfather and great-grandfather. A Detroit Tigers fan. And a wonderful musician.
Les played lumberjack style harmonica, a Finnish-Scandinavian style in which the melody and a pronounced, rhythmic chording and bass line are played together at the same time.
Ken and I first met Les at the Covington Music Festival, where he appeared with Oren Tikkanen, Johnny Perona, Helmer Toyras and Randy Seppala. The performance we captured that day is featured in the strike scene of 1913 Massacre.
While Ken got up close for handheld portraits of each musician, I had the wider angle: Les against a field of flowers.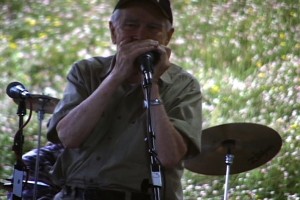 For more about Les and his music, check out this Michigan Public Radio profile.